Uncle Ernesto is Theresa's brother who doesn't know about the Russo's powers. He is mentioned in the episode Justin's Little Sister. he comes in the episode Uncle Ernesto. Ernesto Larkin is his full name. They say that they didn't meet in a long time because Alex, Justin and Max can't go a day without doing magic.
Appearances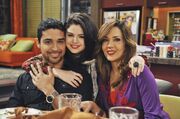 Ad blocker interference detected!
Wikia is a free-to-use site that makes money from advertising. We have a modified experience for viewers using ad blockers

Wikia is not accessible if you've made further modifications. Remove the custom ad blocker rule(s) and the page will load as expected.