The S.S. Tipton is a cruise ship owned by Mr.Tipton.The cruise ship is first shown in the season 2 episode "Cast-Away (to another show)" Whisch was part of the special crossover trilogy called "Wizard on Deck with Hannah Montana"
Relationships
In this episode Alex meets Zach and he falls for Alex they both like playing pranks and get along with each other while pranking Justin. Alex also meets Bailey they become friends through a tug-of-war contest. Justin meets London and instantly falls in love with her and pretends to be a professor to impress her.
"Cast-Away (To another show)"
In the episode
"Cast-Away (To Another Show)" Justin wins an essay contest where the prize is a teen cruise to hawaii aboard the S.S. tipton. That's where the 2 shows, Wizzard of Waverly Place and The Suite Life On Deck join.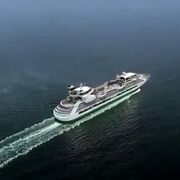 Ad blocker interference detected!
Wikia is a free-to-use site that makes money from advertising. We have a modified experience for viewers using ad blockers

Wikia is not accessible if you've made further modifications. Remove the custom ad blocker rule(s) and the page will load as expected.