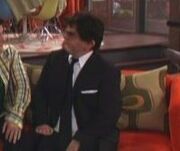 Goblin
(
Brian Scolaro
) is an goblin/wizard police officer. He is married but it is unknown if he has kids. His actual name is unknown, for as
Officer Lamp
says, "Nobody can pronounce that." He filed a complaint that poofing in with smoke causes health problems. In the season two episode "
Harper Knows
(A Wizard Outing)," he says he'll put a gold star in
Alex
's community service file if Alex helped at PopCon. He is once seen by
Harper
in that episode, so he pretends to be "
Jeremy from Science
." Alex says that he has a "huge crush" on Harper, which prompted Harper to start to take interest in him.
Ad blocker interference detected!
Wikia is a free-to-use site that makes money from advertising. We have a modified experience for viewers using ad blockers

Wikia is not accessible if you've made further modifications. Remove the custom ad blocker rule(s) and the page will load as expected.