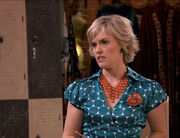 Helen is head of the Wizard Competition Commissioner's Office. She is the one that helped Justin start his delinquent class, and is the one that helped Alex join the class. She has the ability to change the date of a family's wizard competition when the wizard currently in the lead asks. She has a cyclops boyfriend called Teddy. She first appears in Alex Gives Up. She is portrayed by Kari Wahlgren.
Ad blocker interference detected!
Wikia is a free-to-use site that makes money from advertising. We have a modified experience for viewers using ad blockers

Wikia is not accessible if you've made further modifications. Remove the custom ad blocker rule(s) and the page will load as expected.