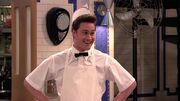 Hank Russo is the husband of Rose Russo. The father of Jerry, Kelbo and Megan Russo and the paternal grandfather of Justin, Alex and Max Russo, also Theresa's father-in-law. He appears in Rock Around the Clock, where the Russos travel back to 1957 to warn Hank about Lenny Hune going to buy the building.
Trivia
His daughter-in-law, Theresa called him Hank, when in Hugh's Not Normous, his name was said to be Duke. It is possible that Duke or Hank is his middle name and he preferes to be called Hank.
Max stated he pulls jelly beans out of his ear in the future. In the past Max waits for him to but is confused. Theresa states that in the future he actually eats them.
Ad blocker interference detected!
Wikia is a free-to-use site that makes money from advertising. We have a modified experience for viewers using ad blockers

Wikia is not accessible if you've made further modifications. Remove the custom ad blocker rule(s) and the page will load as expected.