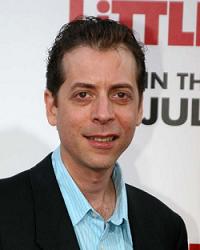 Fred Stoller is an American stand-up comedian, actor, writer, voice artist, and comedian. He is best known for his frequent guest starring as Gerard on the CBS sitcom Everybody Loves Raymond. He has also made guest appearances on several additional TV series as well as having written two episodes of Seinfeld. Stoller is also known as the voice of Stanley in the Open Season franchise.
He appeared in Wizard's episode "Wizards vs. Everything" where he played Gorog in his elevator operator in which quote "The evil laugh dosen't work in" .
External Links
Ad blocker interference detected!
Wikia is a free-to-use site that makes money from advertising. We have a modified experience for viewers using ad blockers

Wikia is not accessible if you've made further modifications. Remove the custom ad blocker rule(s) and the page will load as expected.