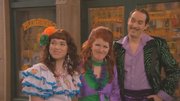 Elaine Finkle is a minor character who appears occasional in Wizards of Waverly Place. She is married to Marty Finkle, who she argues with all the time, and is the mother of Harper Finkle.
In the episode, The Supernatural, Harper says she was up all night with her mom talking, implying she cared about Harper's feelings, while in Wizards vs. Finkles she doesn't seem to have much sensitivity to her.
Ad blocker interference detected!
Wikia is a free-to-use site that makes money from advertising. We have a modified experience for viewers using ad blockers

Wikia is not accessible if you've made further modifications. Remove the custom ad blocker rule(s) and the page will load as expected.