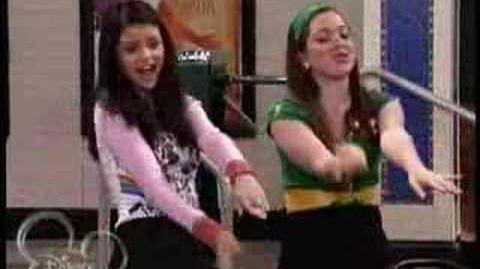 Crazy Hat Song is a song performed by Alex Russo and Harper Finkle and is featured in the fourth episode of the first season, New Employee.
Crazy Hat Song is performed whenever Alex & Harper sees a person wearing peculiar hat.It was singed first when Alex and Harper saw a student wearing a hat at Tribeca Prep, then at the Waverly Sub Station when Harper gets a job there and sees a customer wearing a cowboy hat, then last at 'Gurtbarn when Alex has a big pile of frozen yogurt on her head.
This song has been sung by Alex & Harper, Alex alone, Alex & Theresa and Alex, Harper & Theresa together.
Lyrics
What's that? A hat?
Crazy, funky, junky hat
Overslept, hair unsightly
Trying to look like Keira Knightley
We've been there, we've done that
We see right through your funky hat
Ad blocker interference detected!
Wikia is a free-to-use site that makes money from advertising. We have a modified experience for viewers using ad blockers

Wikia is not accessible if you've made further modifications. Remove the custom ad blocker rule(s) and the page will load as expected.